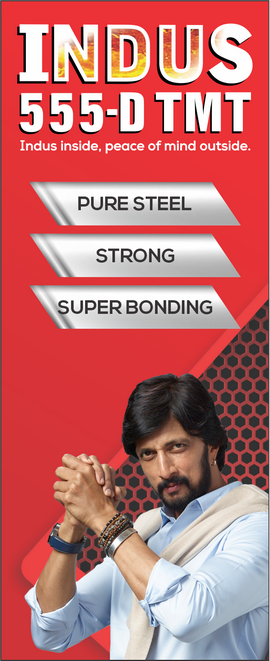 Indus has pioneered in manufacturing a new dimensional TMT rods called Indus X ribbed TMT. These bars give Xtra strength and xtra safety to the construction. Since Indus X ribbed is a premium product, the customer will have the following benefits
Features
Xtra Bonding
The unique pattern of X-Ribbed provide more ribbed area for concrete mixture to bond with the steel rod, enhancing the strength of the buildings.
Xtra Elongation
Indus X ribbed rods have the Xtra benefit because of higher ductility which will suit any kind of construction.
Xtra Safety
The added strength (Proof strength and Ultimate Tensile strength) to the steel rods helps in more safety for the buildings.
Xtra Life
The Xtra intrinsic corrosion resistance property of these bars gives longer life to the structure.
Mechanical Properties
BIS Standards Vs Indus 555-D TMT

IS:1786
Indus TMT
Grade
Fe-550
Fe-555-D
Proof / Yield Strength
N/mm2 (min)
550
570
Tensile Strength
(8% more than proof strength
subject to min. of)

N/mm2 (min)



600
670
Elongation
% (min)
14.5%
18%
Bend Test
(No Traverse crack at 180 degree
bend around mandrel)
(up to 22 mm)
4D
3D

(above 22 mm)



5D
4D
Re Bend Test
(No Traverse crack at 45 degree bend
and reverse bend through 22.5 degree
around mandrel)

(up to 10 mm)




5D
5D
(above 10 mm
7D
6D
Chemical Properties
BIS Standards Vs Indus 555-D TMT

IS:1786
Fe-555-D Indus
Fe-550
Fe-555-D
Carbon
% max
0.25%
0.20% max
Phosphorus
% max
0.040%
0.035% max
Sulphur
% min
0.040
0.035% max
Manganese
% min
0.42% min
0.72% min
Indus TMT Weight Chart
Section
BIS Standard
Indus Standard`
Size in mm
Area in cm2
Kg / mtr
Kg / mtr
8 mm
0.50
0.367 to 0.423
0.367 to 0.395
10 mm
0.78
0.574 to 0.660
0.574 to 0.610
12 mm
1.13
0.843 to 0.932
0.843 to 0.880
16 mm
2.01
1.500 to 1.658
1.500 to 1.580
20 mm
3.14
2.393 to 2.541
2.393 to 2.460
25 mm
4.19
3.799 to 3.971
3.799 to 3.830
32 mm
8.04
6.130 to 6.500
6.128 to 6.310
07 mm
0.41
0.280 to 0.350
0.280 to 0.302